The lack of gender targets for clean energy is harming women and girls
Gender inequalities in energy access are substantial but largely unmeasured. SDG 7 – affordable and clean energy – is one of six SDGs without gender-specific indicators. Clean and safe energy is a prerequisite for achieving all the social and economic SDGs, and SDG 5 – gender equality – will only be achieved if a more targeted approach is adopted on energy
Gender — Global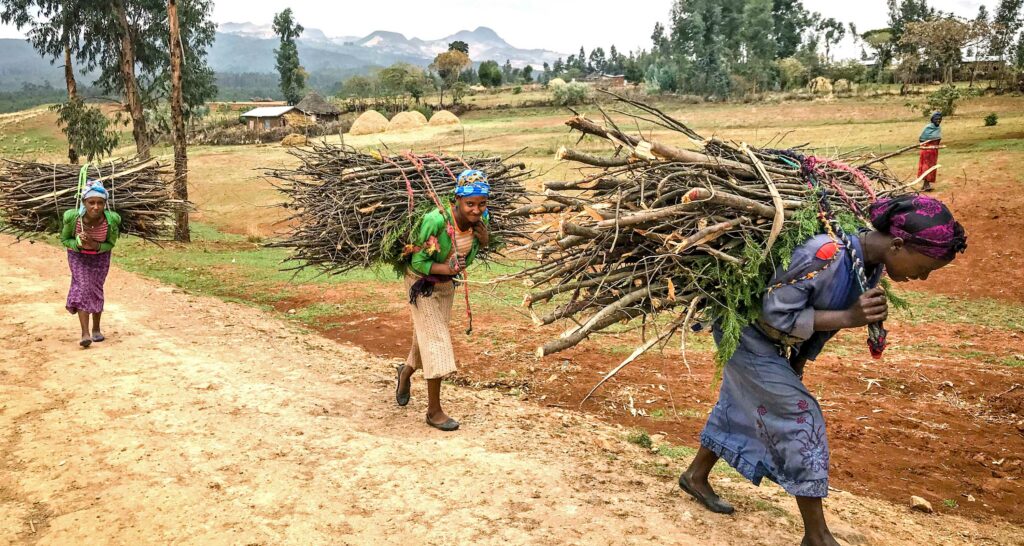 A third of the world's population lacks access to clean energy. Nearly four million people die each year from illnesses caused by household air pollution. Access to electricity is lacking for 759 million people, mostly in Africa and South Asia, while 2.6 billion people do not have access to clean cooking solutions.
Women and girls are the worst impacted by energy poverty. Their lack of access to energy to enable healthcare, education, food security, public safety, and economic opportunity affects their ability to live modern, dignified lives. Women's leadership, employment, and entrepreneurship in the energy sector are also essential, both for gender equality and for more effectively supplying sustainable energy for all.
Gender equality and the empowerment of women and girls are universal goals, as set out in:
Sustainable Development Goal (SDG) 5 on gender equality
the Convention on the Elimination of All Forms of Discrimination Against Women (CEDAW)
the 1995 Beijing Declaration and Platform for Action
Access to affordable, sustainable, safe, and clean energy is a precondition for achieving SDG 5 and for empowering all women and girls. The UN resolution adopted during the High-level Dialogue on Energy in 2021 recognized that access to and effective supply of sustainable energy can be improved and accelerated by gender equality and female empowerment. The resolution called upon governments, the UN development system, and other stakeholders to take actions to mainstream gender equality in policies and programs.
Yet gender inequalities in energy remain substantial and largely unmeasured. SDG 7 (affordable and clean energy) is one of six SDGs that have no gender-specific indicators, according to UN Women. While recent initiatives by national governments, international organizations, the UN system, non-governmental organizations (NGOs), and the private sector are seeking to close these gender gaps, more efforts are urgently needed.
Sustainable energy and gender equality are interdependent
Women and girls face gender inequalities in energy access and participation that impact other SDGs. We need progress in four key areas:
energy poverty
employment and leadership
entrepreneurship
the enabling environment
Energy poverty
Unequal energy access disproportionately affects women and girls due to their gender roles and responsibilities – for example, through time spent on domestic chores and unpaid care. Women in many developing countries spend on average 1.4 hours a day collecting fuelwood and four hours cooking, in addition to other household tasks that could be supported by energy access. This limits their access to education and employment. Multiple studies show that after household electrification, women are 9 to 23 percentage points more likely to gain employment outside the home.
Using polluting energy for cooking increases women's exposure to health risks. Lack of electricity excludes them from new digital technologies that are prerequisites in the modern world for decent employment and cultural and political engagement. It also lowers productivity in their businesses and farms. Some argue that these factors could ultimately affect women's reproductive choices, and hence demographics and even future carbon emissions. A recent study in Nature Sustainability estimated that implementing adequate policies to replace wood and charcoal-burning stoves could prevent at least 463,000 deaths and USD 66 billion in healthcare costs yearly in sub-Saharan Africa.
Employment and leadership
Equal opportunities in the workforce are essential to guaranteeing a just energy transition. Yet the energy sector remains male dominated and unrepresentative of the workforce at large, despite the clear benefits of employing a diverse workforce. Research shows that firms with at least 30% female leadership enjoy profit margins of up to six percentage points higher than firms with no women in the top ranks. Companies with women in their management also tend to invest more in sustainability and are more energy efficient and environmentally sustainable.
Access to quality jobs and finance are critical levers of empowerment for women and their families. Even in the renewable energy sector, less than a third of jobs overall and only 22% of technical roles are estimated to be held by women, according to an IRENA survey. In the power sector, this share may be even lower, according to a World Bank study. Wages for female employees in the energy sector are 20% lower than for their male counterparts, according to the International Energy Agency (IEA), even when differences in skill levels are accounted for. The IEA also found that, on average, there are 76% fewer women than men working in the energy sector. That compares with the average 8% gap for the total workforce, according to 2018 data from 29 IEA members.
Entrepreneurship
Gender diversity in the energy sector is vital for driving more innovative and inclusive solutions for clean energy transitions throughout the world. Women entrepreneurs are the source of many innovations to mitigate climate change. Yet, according to the IEA, in the patent classes closely associated with energy (combustion apparatus, engines, pumps, and power), women are listed in fewer than 11% of applications. Even in the dynamic area of start-ups, only about 11% of energy sector founders are female, compared with 20% across all sectors.
Further, through their businesses, women entrepreneurs (often heads of households) provide income for food, healthcare, and children's education. Energy access plays a critical role in diversifying women's livelihoods through productive uses that increase income and can reduce poverty.
Women entrepreneurs can also improve the effectiveness of the energy supply chain by fast-tracking the last-mile distribution of renewable energy technologies. They have the unique ability to connect with their female customers, can increase awareness in their communities, and can deliver products and services through untapped social networks.
Globally, women represent one in three growth-oriented entrepreneurs across all sectors, yet they receive less than 3% of equity financing. Female entrepreneurs face more barriers to business success than men, namely:
restricted mobility
social and cultural norms
(most important) difficulties in accessing both formal and informal credit
These barriers are partly due to women's low asset ownership and lack of access to financial networks, which need to be addressed urgently.
The enabling environment
The enabling environment for women's participation in the energy sector includes gender-responsiveness in energy planning, policymaking, and regulation, and tracking and monitoring of progress. Energy policies and planning are often 'gender blind' and lack a gender perspective. Women are underrepresented in energy decision-making processes, gender-disaggregated data and information are sparse, and policymakers and practitioners lack awareness of gender dimensions.
Gender inequality can be further exacerbated by national energy policies, regulations, and subsidies. Women have differing labor-market and mobility patterns, and encounter difficulties in accessing subsidies and credit, especially in the informal sector. For example, fossil fuel production subsidies have largely been directed at industry and transport rather than cooking fuels, and tend to be regressive. According to the World Bank, USD 1.9 trillion was invested in 2018 in electrification globally. Yet interventions and investment to address gender gaps in the sector remain minimal.
Enabling a gender-just energy transition
The role of women and gender-transformative policies in the energy sector is essential not only for achieving SDGs 5 and 7 but also for building a climate-just future. As discussed recently at side events at COP27, interlinkages between gender equality and universal energy access also exist with climate action (SDG 13), health (SDG 3), education (SDG 4), food security (SDG 2), and clean water and sanitation (SDG 6).
Lack of gender-responsive financing mechanisms currently hinders the full participation of women in the climate and energy transition. Sustainable energy plays an important role in climate change mitigation. It can also play a key role in adaptation, and in reducing the climate vulnerability of women and girls.
In the words of Milagros De Camps, Vice Minister for International Cooperation at the Dominican Republic's Ministry for Environment and Natural Resources, "not everything that is green is just." Her comments, at the 66th session of the Commission on the Status of Women in March 2022, were a stark reminder that women will not benefit from the creation of green jobs unless the current occupational segregation and gender norms are addressed.
The road ahead
National governments, international organizations, the UN system, NGOs, and the private sector are increasingly coming together to close gender gaps in sustainable energy and to address the interlinkages of gender and energy with the other SDGs. ENERGIA has supported and trained more than 8,000 women entrepreneurs in the clean energy sector. This has provided almost four million people in last-mile communities in Africa and Asia with access to affordable energy and engendered positive changes in the lives of entrepreneurs' families and communities.
At least 10 countries have included gender in their national energy policies, and the Government of Kenya was the first to adopt a National Gender and Energy Policy, in 2019. The Economic Community of West African States has developed a Policy for Gender Mainstreaming in Energy Access to provide policymakers with instrumental and human rights-based indicators and rigorous arguments to align energy interventions with principles of gender equality.
In 2022, the World Bank for the first time included gender tracking in its Regulatory Indicators for Sustainable Energy (RISE), which collect data from 111 countries. Also in 2022, the IEA opened a gender and energy portal to track gender gaps in the energy sector in employment and wages, senior management, entrepreneurship and innovation. A key recommendation made in the SDG7 Technical Advisory Group's 2022 UN Policy Brief on Addressing Energy's Interlinkages with Other SDGs, submitted in support of the 2022 UN High-Level Political Forum, was to consider the establishment of a platform to strengthen collection of gender-responsive energy data, to address the lack of data and consistency of data collection.
A multi-stakeholder coalition is coordinating a global Gender and Energy Compact, developed in the framework of the UN High-level Dialogue on Energy and led by ENERGIA, the Global Women's Network for the Energy Transition (GWNET) and the UN Industrial Development Organization. Signatories include the governments of Canada, the Dominican Republic, Ecuador, Iceland, Kenya, Nepal, and Sweden, as well as USAID/Power Africa and more than 50 public and private sector entities, academia, civil society, youth, and international organizations.
The compact places women and gender equality at the center of achieving SDG 7. It commits to accelerate action towards a just, inclusive and gender-equal energy transition:
the elimination of energy and time poverty, and the drudgery of women
increased access to productive resources for businesses owned and led by women
career advancement, and decent and productive employment
generation and accessibility of high-quality knowledge, mechanisms, tools, and sex-disaggregated data
Reaching these goals and outcomes requires actions at multiple levels from a wide range of stakeholders. We need more influencers to join the coalition and take action towards a just, fair, and inclusive energy transition that supports gender equality and the empowerment of women and girls.