A new approach to waste can advance the circular economy
We must urgently find ways to turn burgeoning waste from cities into a resource
Cities — Global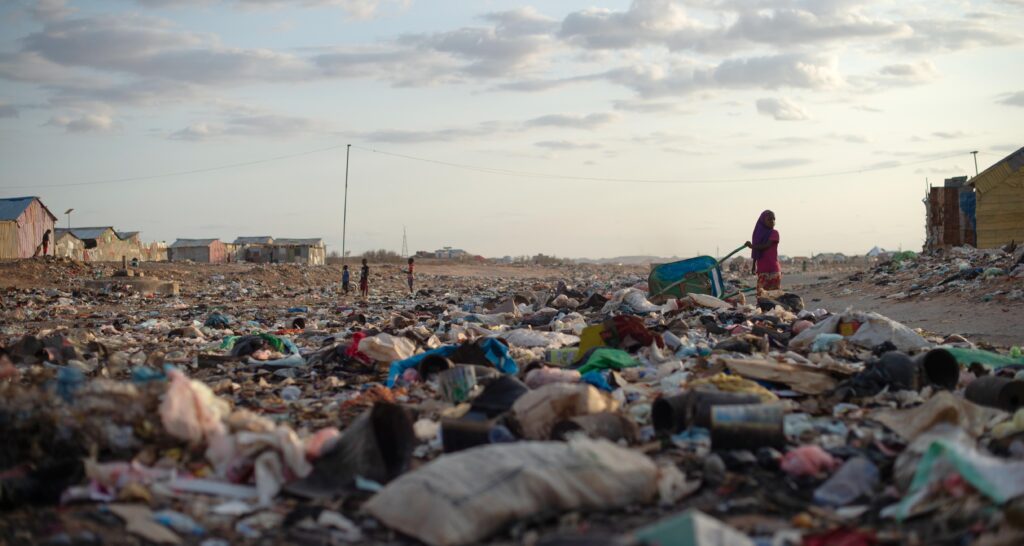 The world's urban population will double by 2050, estimates predict. This presents a number of sustainability challenges, like how to provide essential services such as housing, food, health and education, as well as decent jobs.
Rapid urban population growth will affect the Earth's natural environmental systems, and will exert pressure on food production and use of energy, water, and land. There will also be a likely upsurge in the production of solid waste. Urban environments are associated with both organic and inorganic solid waste, such as construction debris, uncollected waste paper, food remains, plastics, metal scraps, and disposable medical remains. The associated environmental degradation caused by waste can in turn adversely impact the quality of health and services provided to urban populations.
Faced with rapid urban population growth, efficient approaches to waste management will be critical for providing safe and clean urban environments, while protecting cities from the harm caused by poor handling of urban waste. Global best practice, as advocated by Sustainable Development Goals (SDGs) 11 and 12, is for sustainable waste management. This includes promoting the principles of 'prevent, reduce, reuse and recycle,' as well ensuring proper collection and discharge of solid waste in urban areas, and reducing global food waste by half by 2030. In accordance with international standards, SDGs 11 and 12 also commit to the proper handling and treatment of chemical and other hazardous waste through its whole life cycle. Waste services also feature in the New Urban Agenda, through which UN-Habitat Member States commit to transforming and realizing universal access to sustainable waste management systems, minimizing landfill, and converting waste into energy, paying special attention to coastal areas.
A circular approach to waste management
Rising urbanization coupled with shrinking natural resources has led to a shift in the public's view of waste. Waste is no longer seen as the predictable outcome of industrialized economies but rather as a valuable and reusable resource. This is evidenced by the demand to invest in the circular economy worldwide. The circular economy disrupts the traditional 'take, make, consume, and dispose' pattern of growth, and enables the reuse of solid waste in the economic production process. It also promises to generate economic growth, net savings for industry, and environmental benefits by: 
creating new businesses and job opportunities
reducing the cost of materials, supply and production
minimizing environmental degradation
New development agendas, policies and investment strategies should therefore be geared towards promoting the circular economy. Indeed, the European Commission adopted the circular economy action plan in March 2020, paving the way for a cleaner and more competitive Europe.
The approaches to circular economy adoption presented by the Ellen MacArthur Foundation and the Government of China, built on comprehensive analyses, advocate for circularity in everything from materials production through to products and systems (thus more aligned to the value chain approach). Additionally, the collective action of different sectors has contributed to the development of various tools that can act as a framework for implementation. In particular, there are now circular economy strategies and implementation databases for each part of the value chain. Experts in different fields can offer support to customize these tools for specific contexts.
Circular controversy
The circular economy is not without its critics, however. One of the principles of the circular economy is that it decouples economic activity from the consumption of finite resources. Yet some critiques question the sustainability of several approaches related to the circular economy, such as industrial ecology, eco-efficiency and cleaner production. The charge is that these approaches only achieve relative decoupling (slowing resource use relative to economic growth) rather than completely severing the link.
Second, there is a lack of conceptual clarity and standard definitions. In some accounts, the circular economy is treated as a new, innovative, and transformative initiative. However, academic literature also reveals credible evidence that the concept has existed since the 18th century. 
Lastly, organizations are implementing the circular economy despite there being no comprehensive analyses of different circular economy strategies. This has led to dysfunctional implementation, and the possibility of insufficient robust mitigation measures in place to deal with potential future risks. While progress has been made in some developed countries, the implementation of the circular economy in developing nations could yet face major setbacks due to capacity and technological challenges.
Waste management as an integral part of a circular economy
A multifaceted approach is thus needed to apply circular economy principles to waste management, combined with a clear framework and strategy on how to replicate the approach around the world, including in developing countries. This is due to the complexity and variation in different countries, and the fact that the circular economy is 'top-down' and dependent on government initiatives. Another complicating factor is the informal waste collection and recycling sector (scavengers) that dominates in developing countries, but not in developed countries.
Within the circular economy initiative, the recovery and remanufacture part of the value chain has received most attention. Waste collection and disposal are intertwined, and comprise half of the implementation cases. This is due to the historical development of circular economy elements within the waste management sector. As such, waste avoidance principles and tools have widely been formulated and included as elements of the circular economy, particularly in developed countries. Such development is a basis for replicating the same in developing countries. This in turn calls for Global North and South collaboration in the implementation of the circular economy initiative.
Indeed, managing waste better is considered by some to be the main reason to switch to a circular economy. Waste management stems from the recognition of the Earth's limited capacity for assimilating  pollution, and is common to concepts such as 'planetary boundaries.' One obvious way that waste management integrates with circular economy principles is through the 'four Rs': reduce, reuse, recycle and recover.
Conclusion
Despite the importance of the circular economy in waste management, there is no common ground between the various established approaches. Integrating circular economy principles within sustainable supply chain management must offer clear advantages from an environmental point of view. We need a new approach to ensure that sustainable waste management is cost-effective, creates wealth, is environmentally friendly, and protects public health.