Space-D: Innovation for the SDGs
Dubai Electricity and Water Authority is harnessing the power of space
technology to transform its electricity and water networks
Data and monitoring — Middle East and Northern Africa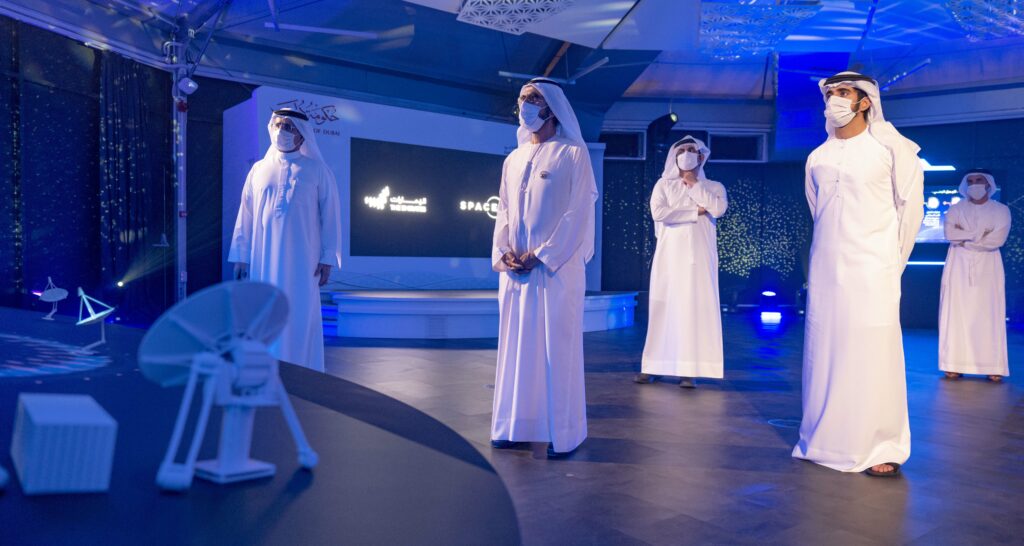 Water and electricity are vital for life, and as such, are enshrined in the SDGs under SDG 6 and 7 respectively. As the sole provider for electricity and water in the Emirate of Dubai, the Dubai Electricity and Water Authority (DEWA) has made a commitment to support and contribute to the SDGs. Its purpose is to provide globally leading sustainable, efficient, and reliable power and water services, and related innovative smart solutions.
Visionary leadership
The United Arab Emirates (UAE) has a human-centric vision, aiming to provide the best life for its people. UAE's Vision 2021 was launched by His Highness Sheikh Mohammed bin Rashid Al Maktoum, Vice President and Prime Minister of the UAE and Ruler of Dubai, five years before the SDGs.
The Vision had much common ground with the Goals: sustainable environment (SDG 13, 14 and 15) and infrastructure (SDG 6, 7, 9 and 11); world-class healthcare (SDG 3); first-rate education system (SDG 4); competitive knowledge economy (SDG 8); and safe, public, and fair judiciary (SDG 16). The country has now refined and built on that vision to map its development for the next five decades.
The UAE Centennial Plan 2071 is distinguished by its level of ambition: it aspires to position the country as a world leader in all these areas. This vision, combined with the efforts of organizations and citizens, is enabling the country to overcome challenges and achieve its ambitions.
As part of this drive to succeed, DEWA has made a commitment to support the country's goals for sustainable development by utilizing cutting-edge technologies and innovations. What could be more cutting edge or innovative than harnessing the power of space technology to revolutionize the provision of power and water?
Space-D: DEWA's space program
In January 2021, His Highness Sheikh Mohammed bin Rashid Al Maktoum launched DEWA's space program: Space-D.
This ambitious initiative aims to build DEWA's capabilities and train Emirati professionals to use space technologies to enhance its electricity and water networks. Space-D will utilize Fourth Industrial Revolution technologies such as the Internet of Things (IoT), Artificial Intelligence (AI), and Blockchain to exchange information using satellites and Earth observation technologies.
"DEWA's space program will contribute to enhancing the UAE's global competitiveness and strategic partnerships in the national space sector as well as paving the way for a new phase of Emirati capabilities in space exploration, technology, and related industries that will be used to strengthen electricity and water networks in Dubai," said Saeed Mohammed Al Tayer, Managing Director and Chief Executive Officer of DEWA.
Space-D will bring myriad benefits across DEWA's entire organization. It will increase the efficiency and effectiveness of DEWA's planning and operations, reducing costs and work-hours. It will enhance preventive maintenance at its generation, transmission, and distribution divisions, as well as at its smart grids and electric vehicle charging stations.
The new infrastructure will enhance DEWA's flexibility and agility in monitoring and managing electricity and water networks. It will enable more accurate and rapid assessments of weather and climate change impacts on energy supplies and infrastructure. And it has the potential to provide a backup support system for the network through satellite communications.
Space-D's main satellite, equipped with the latest imaging and communication technologies, will be launched in conjunction with Expo 2020 Dubai, taking place between October 1, 2021 and March 31, 2022. A constellation of satellites, built by Emiratis at DEWA's Research and Development Centre at the Mohammed bin Rashid Al Maktoum Solar Park, will support the main satellite. A central ground station at the solar park will communicate with transmission stations across the electricity and water networks.
Digitizing power
Satellite connectivity, IoT sensors, and AI will transform the network from individual energy silos to fully digitally interconnected systems. It will see a revolution in automation, significantly reducing human-to-human coordination and supervision – with the ultimate objective to achieve full automation.
The benefits of this will be many and varied – from improved visibility across the system, to spotting anomalous activity more quickly, to making better use of assets, and minimizing labor costs.
Predictive maintenance and asset monitoring
Applying AI to the data captured from IoT sensors and satellite imagery will allow DEWA to more effectively monitor energy assets and predict when maintenance is needed to avoid failures such as power outages.
Space-D will enable real-time event and automated fault detection – everything from when overhead line poles tilt during abnormal weather, to when live conductors snap, vehicles collide, land slips, or overhead lines sag. The expected value and impact of this is a significant reduction in customer minutes lost and the number of technical complaints. As well as improving the reliability of the network, benefits will also include better power supply quality, reduced operational costs, and less reliance on manual labor, thanks to automating the inspection process.
Solar production forecasting
Space-D will enhance production and management of solar power. The satellite constellation's advanced imaging capabilities, coupled with on-the-ground weather stations and sky imagers, will enable DEWA to develop AI algorithms and models to forecast photovoltaic (PV) energy production for the coming hours.
This will mean better regulation and power scheduling in both the distribution and transmission grids, and being better able to assess fluctuations and risks of intermittence.
This in turn will generate a range of improvements in system stability and efficiency, electric power balance, reactive power compensation, frequency response, as well as minimizing grid overload.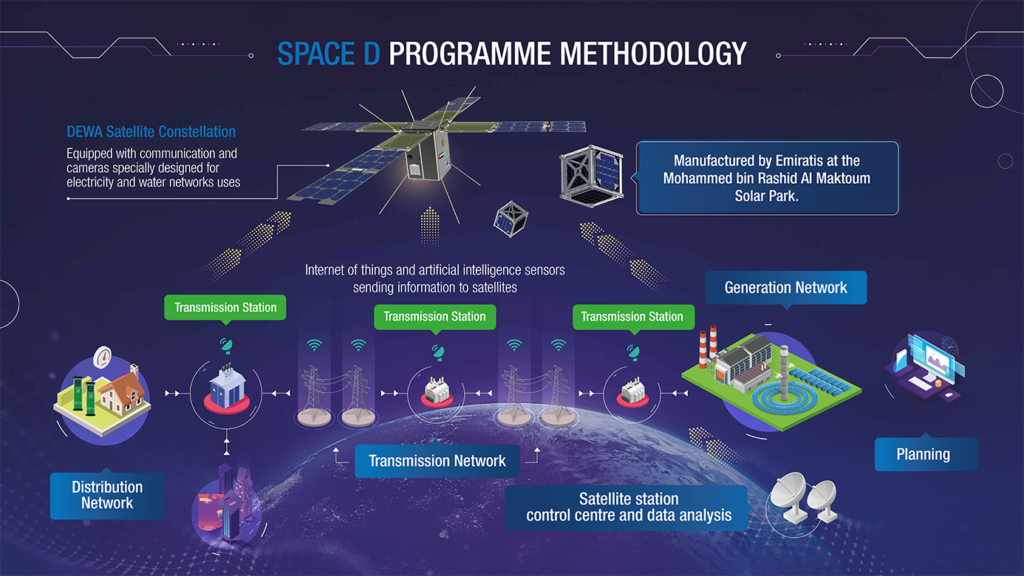 Bigger picture
Through innovation and sound scientific planning, DEWA seeks to make its contribution to the UAE achieving its centennial ambitions in 2071. Space-D will be an important part of that.
The Space-D program supports the UAE's National Space Strategy 2030, which aims to realize the leadership's vision by using space sciences, technologies, applications, and services to enhance the country's development. Space-D also supports the Dubai Clean Energy Strategy's target of obtaining 75% of Dubai's total power capacity from clean energy sources by 2050.
Supporting the SDGs
Since 2016, DEWA has made a decisive effort to systematically explore how it can increase its alignment to the Sustainable Development Goals (SDGs) and be better positioned to contribute to their effective delivery.
DEWA has aligned its strategies and operations with the SDGs by acknowledging and affirming the SDGs' importance, identifying the SDGs of greatest relevance, building capacity, and embedding the SDGs into its decision-making processes.
In 2021, DEWA won the prestigious EFQM UN Sustainable Development Goals (SDGs) Challenge, which recognizes DEWA's efforts in sustainable development and its support of the UAE's efforts to achieve the SDGs.
Through Space-D, DEWA is strengthening its efforts to support the SDGs by utilizing modern technology to deliver its electricity and water services. Space-D has both direct and indirect contributions to many of the Goals, including SDGs 6, 7, 9, and 11.
About the sponsor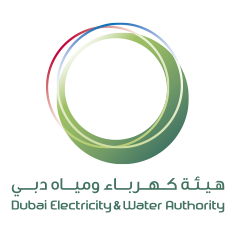 DEWA is a Dubai government owned utility and is the sole provider of electricity and water in the Emirate of Dubai. DEWA's core business is to operate and maintain the power stations, desalination plants, aquifers, and power and water distribution networks in Dubai.
Innovation is one of DEWA's five core values and is a recurring theme in its strategy map. DEWA is recognised as a leading pioneer in its adoption of Fourth Industrial Revolution (4IR) practices and disruptive technologies.
For more information, visit: www.dewa.gov.ae