Applying the land-water-food-energy nexus
To achieve net zero and unlock progress on multiple SDGs, we need new, coordinated action to manage the complex interplay between food, land, energy, and water systems
Climate — Global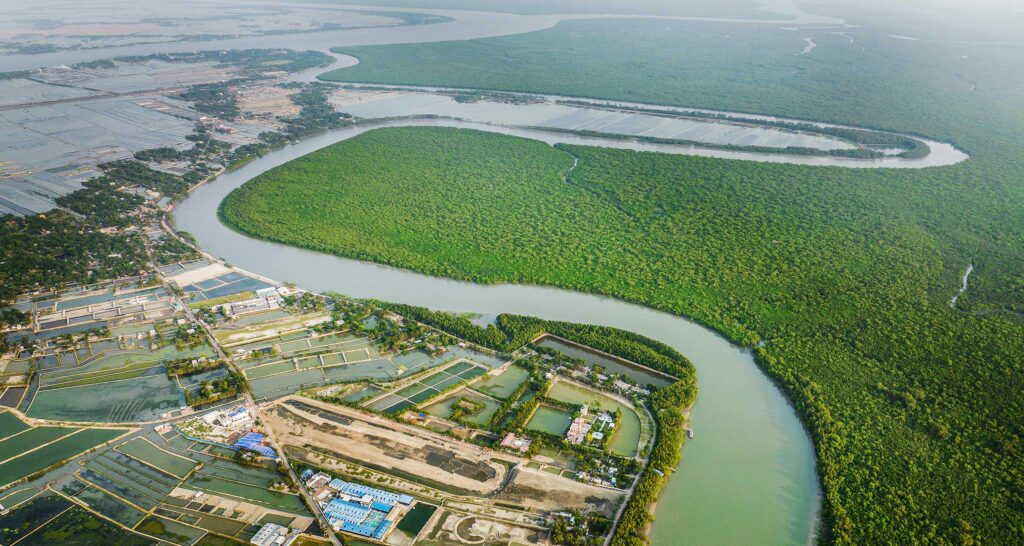 Mounting scientific evidence points to food systems being responsible for around a third of global greenhouse gas emissions. Thus, food systems transformation is increasingly recognized as critical on the path to net-zero emissions.
But the transition to net zero demands that we embrace the complexity inherent in food systems that are interconnected with water, energy, forestry, and biodiversity. All are systems that are strongly intertwined with each other, and all are critical to rural livelihoods, food and nutrition security, and gender and social inclusion.
And a system (like a network) is only as strong as its weakest link.
In food systems there's little point in increasing crop yields if supply chains are not equipped to take the extra burden. Equally, there will be diminished returns if high-yielding varieties of seed are introduced without ensuring a reliable water supply. And the best irrigation policy in the world will make little difference if farmers don't have good seeds.
An understanding of these interdependencies is at the heart of the Sustainable Development Goals (SDGs) where the goals are mediated across energy, food, and ecosystems.
Systems thinking helps avoid the unintended consequences of siloed interventions that could jeopardize sustainability and possibly exacerbate conflict. It allows us to benefit from a broader pool of innovation from across different sectors.
Systems thinking has also guided a reform of CGIAR in the last few years. The reforms unite 11 research centers, looking at different aspects of food, land, and water systems into an integrated operational structure. By operating as "one" CGIAR, we are breaking down barriers to deliver more innovations developed with today's more interconnected challenges in mind.
The reforms aim to encourage partnerships and good governance across boundaries and sectors. We aim to foster strong institutions and actors willing to overcome silos, think big, and adopt new tools to tackle systemic challenges.
The breadbasket basins of the Indus and the Ganges in South Asia are an example of a region where a more holistic systems approach will reap rewards.
The area is one of the most at risk from climate change in the world. Ground and surface water abstractions are among the most unsustainable. Poor policies, deforestation, and pollution have contributed to severe ecosystem degradation. The combined risks put 7% of the world's food production at risk, with potentially devastating impacts on the well-being, health, and livelihoods of an estimated one billion people.
Governments in the region are calling for:
scaling sustainable and inclusive on-farm water management practices for improved livelihoods and nutrition, and jobs
renewable energy as a priority intervention
nutrition and gender equality in access to safe water for multiple uses
However, policies are too often incoherent, fragmented, and inefficient.
As part of its reform, CGIAR is implementing a portfolio of research initiatives that are designed to tackle these large-scale challenges.
The Nexus Gains Initiative will work in key transboundary river basins including the Indus and Ganges but also the basins of the Blue Nile and the Aral Sea. Underlying systems there are suffering biodiversity loss and fragmented ecological integrity. Many areas are hotspots of land degradation and resource overuse. Gender inequality is acute.
The initiative will seek out and work with public and private-sector investors looking for guidance on where and how to support sustainable development for water, food, energy, forest, and ecosystem services. Key will be to design approaches that negotiate trade-offs as we pursue the desired equitable economic and social outcomes, while also ensuring environmental sustainability.
You can expect, for example, innovations focused on increased resource use efficiency and strengthened ecosystem functions. This means improved water productivity that considers all water users, so strengthening governance across water, energy, food, forests, and biodiversity systems. And we'll arrive at these goals through a focus on capacity development and partnerships to unlock these cross-sectoral gains.
As decision-makers, governments, and researchers have recognized that food systems are part of a bigger network that also includes land, ecosystems, and water, we are beginning to develop strategies that account for all the ways in which they interact. But we have a long way to go to transform these systems to achieve the future we want.
Fortunately, proven and sustainable solutions exist for achieving both greater food security and reduced emissions. Scaling them in parallel to focusing on new innovation is also critical, especially in the face of the current food systems crisis.
One example of an innovation spanning water, energy, and food systems already championed by CGIAR is solar-powered irrigation. A pilot project in Gujarat, India, connected 3,500 solar pumps to the grid, with a 25-year agreement with the local power utility to buy back surplus power. The project is increasing energy access and alternative income while incentivizing smart groundwater use and reducing carbon footprints. The success of the pilot inspired a multi-billion-dollar Government of India initiative to promote solar irrigation.
Another example of a solution that cuts across food, land, and water systems is the development of rice that can be direct seeded, without the need for puddling (which requires both enormous volumes of water and emits a similar level of methane to livestock).
Improved varieties can allow farmers to conserve water (especially important in countries such as India where groundwater is increasingly scarce) without reducing their yields, income, or food security. At the same time, these varieties can reduce methane emissions, which are more potent than CO2.
The unprecedented challenges of the last few years have stalled progress towards the SDGs and zero hunger (SDG 2) in particular. The harsh truth is that we were not prepared. And the lesson learned is that we must expect the unexpected. COVID-19 won't be the last pandemic. And we have not seen the end of the wars which are upending global food security.
The effects of climate change we're experiencing today are only the beginning.
But there are reasons to be optimistic for a post-2030 world. Over the past 50 years we have seen the development of multiple innovations to improve farm productivity, livelihoods, and resilience to shocks. These are innovations backed by research to provide the scientific evidence of what works and where, so that policymakers, farmers, private enterprises, and the public can make the right choices depending on their environments.
Many of these innovations can and are being scaled still further through even broader partnerships to meet the urgent needs of this food crisis, but also the wider transformation of food, land, and water systems necessary to achieve net zero.
The appetite to continue the critical work to uncover new innovations through research has also not diminished. And it's through a continued commitment to science and research that we will be able to reduce emissions in a way that enhances – not undermines – fundamental human rights and needs, including the right to food and decent livelihoods.
Bridging the gap between food, land, and water systems will unlock progress on multiple SDGs and help us recover progress to 2030 – and build a more resilient world for future generations.