We can't rely on business to act in good faith
We can't trust companies to prevent climate catastrophe. We need new, tough, global standards to stop unscrupulous operators putting profit over the environment
Climate — Global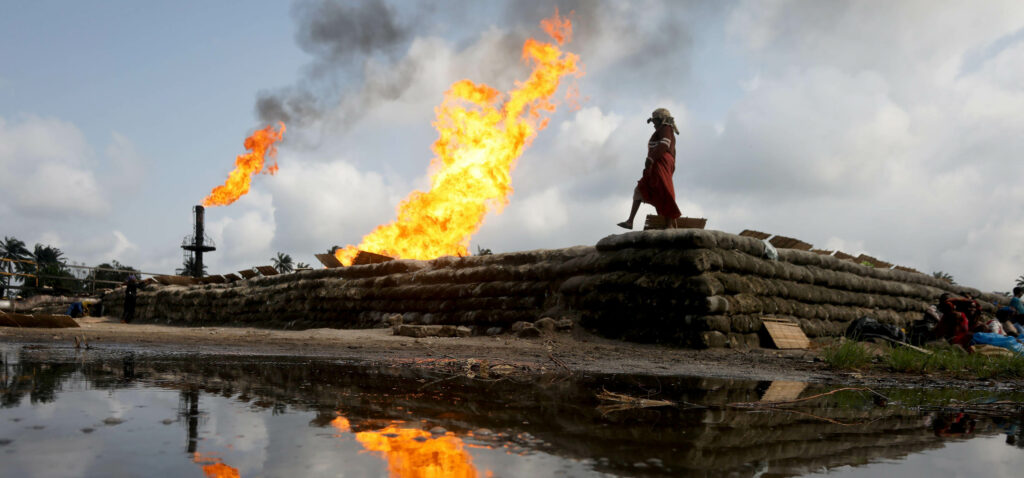 Our core solution: global corporate accountability standards, so corporate power no longer goes unchecked and policymaking is made in the public good.
We have limited time left to protect our planet and save humanity. Yet all too often, global leaders prefer to dance around this reality, despite the mounting evidence of the many catastrophic ways the climate emergency is already affecting communities and ecosystems around the world.
We know we need to stop extracting fossil fuels, stop tearing down climate-critical forests, and cut emissions, so what's holding us back? Amid necessary attention on technology and consumption patterns, an overlooked part of the answer is the influence and impunity of powerful companies that are effectively betting on destruction and have most to lose from the action the rest of us desperately need.
Over a quarter of a century, Global Witness has been tracking, exposing, and challenging corporations that profit from practices that are destroying our planet, impoverishing whole nations, and fueling violence against communities. We may see improvements in the way individual businesses operate, or new restrictions in some countries. But until we have a new global standard of corporate accountability, in which the companies and individuals who are contributing so much to the current climate emergency can be held responsible and face justice, our progress towards a more sustainable future will be too slow.
Too many corporates know that if we are serious about curbing global warming, the way they make money will need to alter, in some cases irreparably. Whole industries (especially those reliant on extracting fossil fuels) see that their days could be numbered. Their efforts, despite what some of them may say, are, therefore, focused on distraction and delay.
Big Oil has been pumping out misinformation and funding pseudoscientists and think tanks to skew the debate on climate for decades. Companies around the world rely heavily on campaign financing and lobbying to water down regulations designed to protect people and planet. Too many align themselves with oppressive regimes, including military juntas, to access precious natural resources. They use PR, advertising, and opacity to greenwash and hide their environmental impacts. Some are complicit in the killing and silencing of workers and environmental defenders. Their operations can lead to dire impacts like toxic waste, air pollution, and deforestation in communities from the Amazon in Brazil to the Niger Delta, and Richmond in California.
The most powerful economies – Western nations, China, and India – have allowed themselves to be co-opted. They have fallen victim to climate inaction. They have been unwilling and ineffective in holding powerful, carbon-intensive industries and financial institutions to account. They have failed to prioritize the public interest and the well-being of future generations globally. 
Cutting off the access and influence enjoyed by the business community and holding them legally accountable for their actions, while championing a just and equitable transition, is our way of removing the poison infecting the planet, ruining lives and communities, and replacing it with an antidote. It is aimed at allowing nature to heal and giving space and power to those whose lives and livelihoods are linked to the protection of the land.
We are campaigning for new global standards to stop companies being able to operate in a way that drives environmental and human rights abuse. Together with our partners and social movements around the world, we aim to force the hands of governments to ensure corporations who act beyond the law start acting in the public interest. Nations must serve notice on those responsible for undermining progress towards a more sustainable, more equal, future.
At an EU level, this is already in train, with new corporate accountability legislation in the works that would ensure companies and investors prevent, identify, address, and account for environmental and human harms in their global operations. Yet already, it is evident that lobbying efforts from big business are attempting to dilute the proposals. By the end of the year, we will know who really has the ear of decision-makers in Brussels – the climate activists, scientists, and communities facing destruction, or the businesses whose bottom line will be hit by being made to face up to the terrible effects of their activity.
Either way, we can't stop there. If the legislation is strong and is properly enforced, the EU will be an important vanguard, demonstrating the principle that corporate power cannot continue to carry out damaging and destructive practices, unfettered and unaccountable. However, we need other jurisdictions and blocs of global power to follow, go further, and act faster.
Our climate is not safe in the hands of predatory companies. It's time to do something to loosen their grip.